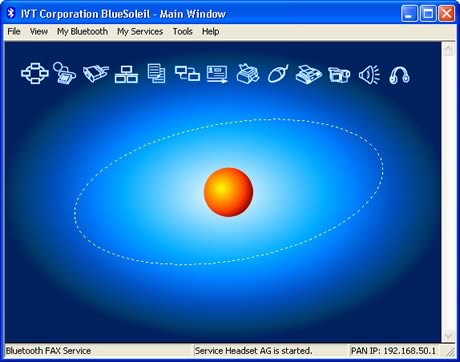 BlueSoleil 6 Mobile
BlueSoleil 6.0 Mobile includes all the features of BlueSoleil 5.0.
Besides, it can back up your contacts, send messages with your computer without taking your phone out of your pocket. You can also send contents in web pages to your Bluetooth phone directly by just select and send…
Contact management
– Backup/restore Bluetooth phone's contacts to/from computerr
– View Bluetooth phone's contacts on computer
– Edit/delete/upload contacts

SMS
– Type and send SMS from your computer
– View/backup/delete SMS on Bluetooth phones

Send contents in a web page to your Bluetooth phone
– Send pictures or words in a web page to Bluetooth phone

BlueSoleil 6.0 Mobile supports the most popular platform such as Symbian S40/S60, Windows Mobile 5.0/6.0 and MTK etc. Many brands of mobile phone can work well with BlueSoleil 6.0 Mobile such as Nokia, Sony Ericsson, Motorola, Samsung, LG, Blackberry and so on.

Click here to check supported mobile list -

http://www.bluesoleil.com/support/index.asp?topic=mobilelist

TBlueSoleil 6.0 Mobile adds a new method, computer-bundle license mechanism, for license control beside the legacy Bluetooth chipset license key checking. This new method does not limited Bluetooth chipset, thus supporting more Bluetooth computer then before, e.g. Lenovo Thinkpad notebooks.

Hardware Check tool is used for checking whether your Bluetooth adapter is supported by BlueSoleil 6.0 Mobile before using BlueSoleil.

Downloads
Hardware Check tool (40 KB)
Patch (16 KB) If u Like My Post Than Click On Google Ads That's R On My Site.